PolyColor
Durable color on metal in minutes
WHAT IS POLYCOLOR?
With PolyColor, you can achieve vivid and lasting color images on a natural aluminum plate. PolyColor - anodized aluminum with a barrier layer and a photosensitive resist layer - allows you to add as many colors as you need to create logos, artwork, colorful graphics, directional and hazard indicators. PolyColor dyes (available in 17 colors) pass through the resist layer and are securely sealed in the anodized aluminum layer. This product's unique characteristics mean PolyColor plates can be recoated many times with resist for single color work or multi-color images. PolyColor is offered in Satin and Matte finish in a variety of sizes and thicknesses.
Equipment for Producing PolyColor
POLYCOLOR PROCESSING
Step # 1 : SELECT A POLYCOLOR PLATE
Choose :
Thickness : 3 available thicknesses
Sizes : 3 available sizes
Finish : satin, matte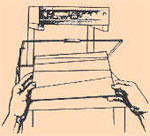 Step # 2 : EXPOSE
Using a film positive, expose the resist coated PolyColor ® plate with an ultraviolet light in an exposure frame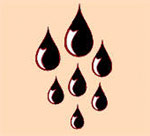 Step # 3 : DEVELOP
Develop the PolyColor plate by rinsing under tap water. The areas not exposed to light will rinse clear and be receptive to coloring. After rinsing, be sure to dry the plate completely before proceeding.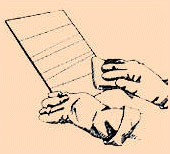 Step # 4 : COLORATION
Swab PolyColor ® Dyes onto the dry plate, in areas to be colored. Only those areas not exposed to light will accept color.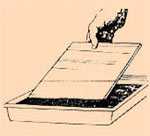 Step # 5 : REMOVE RESIST
After applying the color, remove the resist left on the plate by dipping into a solution of stripper, in a plastic tray.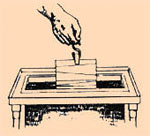 Step # 6 : RINSE
After stripping, rinse the plate and dry completely.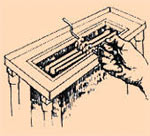 Step # 7 : SEAL
To finish the plate and provide for the unique durability of Polycolor ®, the plate must be sealed by immersing it in a sealing tank unit filled with a heated sealing solution.
OPTIONAL STEPS BEFORE SEALING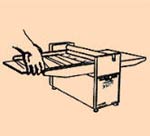 ADDITIONAL COLORS
Coat the Metalphoto plate by dipping it in a tray of Instacolor resist.
Equipment Needed for POLYCOLOR PROCESSING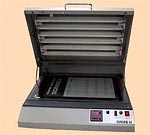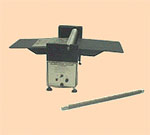 COATING EQUIPMENT
AUTOMATIC COATING MACHINE: Used to coat plates with PolyColor resist in order to add new colors.
With tray to save resist.
For plates up to 305 x 508 mm
COATING ROD : To manually and evenly coat plates with resist to add new colors.
For plates up to 305 x 508 mm.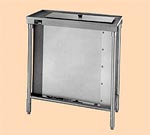 STAINLESS STEEL SEALING TANK
Sealing step causes aluminum pores to swell shut and traps images inside the anodic layer of Metalphoto plates.
4 plates size 305 x 508 mm can be simultaneously sealed inside this 26 literTank with thermostat to control water temperature.
Products Needed for POLYCOLOR PROCESSING

POLYCOLOR PHOTOSENSITIVE ANODIZED ALUMINIUM PLATES
Product characteristics
One side anodized
One side photosensitized (photopolymer coated)
Produces one or more colors and silver images
Processed with automatic machine
Available thicknesses :
0.2 - 0.3 - 0.5 - 0.8 and 1 mm
Finish description :
Satin : semi gloss, medium reflecting
Matte : non reflective, dull or frosted appearance
Available sizes :
254 x 305 mm (10 x 12") - 305 x 508 mm (12 x 20")
508 x 610 mm (20 x 24")
POLYCOLOR PROCESSING CHEMICALS
PolyColor dyes:
comes premixed in two convenient sizes (100 ml or 250 ml)
Available colors : black, yellow, green, light green, blue, dark blue, red, Orange, gold, purple, brown, cyan , magenta
PolyColor stripper : to remove the resist coat after coloring PolyColor cleaner/ diluents: used for ink thinning or removing characters from the plate.
Appli pads : lint-free cotton pads used to swab dyes onto the PolyColor plates
Liquid sealing concentrate: use to seal all Metalphoto anodized aluminum products. Provides for long term durability of images formed in the anodic layer.
Post sealing treatment and polish: used to reduce requirement for clean-up after sealing and to provide polish sheen on finished plates.
COLORING DYES FOR POLYCOLOR PLATES
BACKGROUND COLORING
Water soluble background dyes
Each comes in a dry powder to be mixed with deionized or distilled water to make 3.8 L of working solution.
Available colors: gold, sunfast gold, rapid gold, copper, green, blue, rapid blue, red, brilliant red, bronze.
Dye and Seal background dies :
Each comes in a dry powder mixture of dye plus sealing additive, to be mixed with deionized or distilled water to make up four gallons of working solution.
Plates are simultaneously dyed and sealed.
Available colors: gold, copper, blue, red, purple, green, orange, yellow.
SELECTIVE COLORING
PolyColor resist: to add new colors, the PolyColor plate should be re-coated in a resist coating machine.